Parish Council News
For addiitonal information on any news item please contact the relevant councillor or the Parish Clerk - see contacts page
Summary of issues raised/arising in the month:
Major Development in Ruscombe, Fly tipping, Downfield Tip, Speedwatch, Neighbourhood Plan, Pothole Challenge, Dog Bin Collection, Shurlock Rd Pond, Boundary Review, Drainage Gullies, St Lawrence Café, Footpath watch
(This document is not intended to be read as a record of the minutes of the Parish Council (PC) meeting.)
A copy of the Neighbourhood Plan current as at 17th Oct 2017. Residents will be able to have their say on this in a referendum, probably on 23rd November.
The Parish Council have written a letter to our MP, Theresa May and copied in the Chief Executives of Wokingham and RBWM.
The letter is available here
Parish Clerk vacancy
Unfortunately, due to personal circumstances, the recently appointed Parish Clerk has resigned and therefore, once again, Waltham St Lawrence Parish Council is inviting applicants to apply for the position.
We are a small but active Council and are looking for someone who will enjoy supporting us to achieve our aim of being effective representatives and delivering value to our community.  The Clerk is the Proper Officer of the Council and, working from home, is responsible for preparing agendas, recording minutes and organising the Council's day to day administration. The applicant must have good organisational, communication and IT skills. The Clerk is required to attend 12 evening Parish Council meetings per year (normally held on the first or second Tuesday of the month), an Annual Parish Meeting (in April) and such other Council meetings as may be decided.  The hours are expected to average between 35 and 50 hours a month depending upon experience.
The Parish has the one-time only opportunity to take over and manage this site (on a peppercorn rent)
´ In doing so, the Parish will protect and preserve the land for future generations
´ RBWM will fund all set up and development costs, as well as project manage and lead the development
´ The Parish Council will be responsible for all ongoing maintenance costs once site development is complete, and will also need to manage the site.
Read the presentation given at the Open Day on Sat 7th Oct here
Then register your opinion at one of our consultation events, also in the Neville Hall.
Saturday 14th October 2.15pm - 4.00pm
Saturday 21st October 2.45pm - 5.00pm
Tuesday 24th October 6.45pm – 9.30pm
The consultation is open to all residents who are over 18. If you are not on the electoral register please bring proof of residency.
If you are not able to attend any of these consultation events but still want to register your opinion please contact our Parish Clerk via email or hard copy (your name and address details will be required) to be received before 21.30 on 24th October. wslparishclerk@gmail.com
The decision will be based on a simple majority of the opinions registered, providing there is a sensible number of opinions registered - we will not go ahead if there are only 10 opinions registered even if they are all in favour.
Children (accompanied by an adult) and under 18s are invited to come and leave their comments in a special book.
(Presented at The Parish Annual Meeting)
Another successful year for the Trust. Income after all expenses for the year ending 31st March 2017 was £10,097.12. Income well up so were expenses.
The management team are in the process of installing wifi in the Hall. Hopefully this may encourage additional rentals. If there is no or little take up the situation will be reviewed in two years.
The second upstairs office has been refurbished and let. The silver band has relocated elsewhere in the Hall with a secure site for storing uniforms.
Hopefully you will have noticed that the chairs have been cleaned. They were beginning to look tired.
We are also in the process of replacing some of the lighting with more modern LED lights.
The two large heaters in the main hall are still an ongoing problem we hope to have sorted before winter. One headache is should we refurbish existing heaters or replace. The problem is if refurbished and it does not lessen the noise we would then have to replace them.
The flower beds round the Hall have been cleaned out and replanted. A DCB wish has come true. Looks good David.
My fund raising team are still in action but we realise the need for fund raising is now a lot less than it was. However we still intend to have a couple of events annually. The first will be this autumn. Watch LychGate for details. Our object will now be more social but bottom line of course is that it must make just a little money for the Hall (and not a loss). In this last year we did manage to contribute £1,000.00 to the Hall.
As stated last year I repeat my thanks to the management team who are DCB, Serena Bowe, Nigel Backer, Rick Marshall and Mark Hipgrave. They have taken a big load off the Trustees who are still ultimately responsible for the Hall. Thank you folks.
Finally if you are looking to hold an event please consider hiring the Neville Hall.
I also have to thank all those who have attended the various functions held in the Hall.
John Birkett, Chair of the Neville Hall Trustees
Four ways to keep in touch with Parish Council News
1 Parish Website
www.wsl.link/index.php/council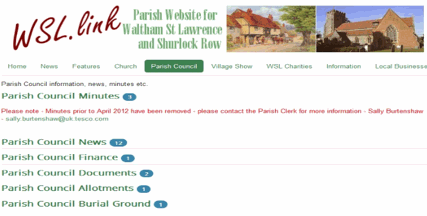 2 Twitter
@WSL_RG10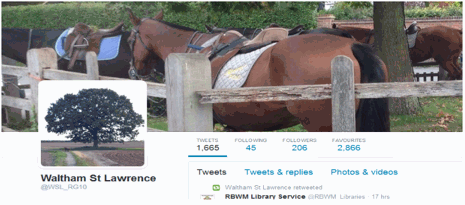 3 Facebook
www.facebook.com/WalthamStLawrencePC?fref=ts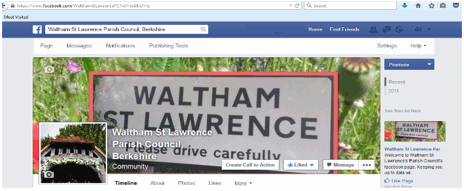 4 Parish Magazine